Schedule some time to stroll La Rambla on your next trip to Barcelona. Be sure to stop at the Mercat de Sant Josep de la Boqueria (la Boqueria) market.
la Boqueria
If you visit la Boqueria at mid-morning, you will see an abundance of fresh seafood. If you visit hungry, take advantage of the ready-to-eat food available. Carry your snack to the paved area behind the market and grab a cement seat. You can nosh and people watch here, especially in the evenings.
I kept returning to La Boqueria for a snack or a quick dinner. Should I have a
freshly
made sweet crepe, a savory crepe, or a piece of chocolate? Wandering through the market, I found myself thinking about how I will prepare that fish fillet over there, or which spices to use when I roast the piece of meat in the next aisle, or nibbling on that hunk of cheese…
I made a vow to come back to Barcelona with a friend(s), rent an apartment, shop the market, and cook what I've pruchased every day
. My small meals will have to suffice until then.
In addition to
fresh produce, mushrooms, and meats and fishes, vendors sell many varieties of candy, desserts, breads, crepes made while you wait, empanadas, and wines
.

La Rambla
Running from the
Plaça de Catalunya
to the Christopher Columbus statue, La Rambla is an ancient street with outdoor stands and cafes to accommodate the tourist crowd
. But if you look around you, you will see intriguing architecture and signage. Be aware that pickpockets work La Rambla and keep your belongings close to you.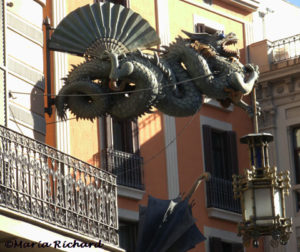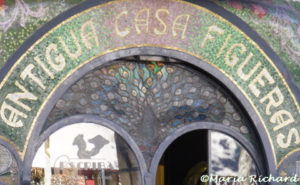 To get to La Rambla on the metro, take Line L3 to Placa de Catalunya station. People watch at Placa de Catalunya and then make your way to La Rambla.
Black Sales
I arrived in Barcelona on Thanksgiving day 2015. Coming out of the metro at Placa de Catalunya, the first thing that caught my eye was the sign for the "Black Day" sale. They were having Black Friday sales in Spain! I later learned this trend began a few years earlier. I wish I had gotten a photo of one of the signs but I didn't think about it at the time.